Trish Gracesmith has an incredible story.
Trish, who is from West Bromwich, was just 45 when she was diagnosed with vascular dementia following a series of strokes. She also lost her eyesight and is now registered blind.
The 57-year-old hasn't let her diagnosis stop her – and she is now representing Great Britain in the IBSA World Games, a multi-sport event for blind and partially sighted athletes, in Birmingham this August.
She's also appeared on national television talking about competing in archery as a blind person.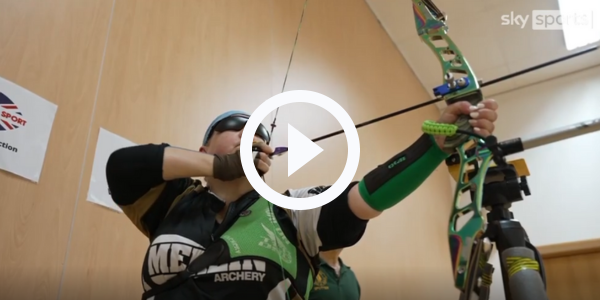 Watch Trish talk to Sky Sports about her achievements and her pride at representing her country.
Trish Gracesmith was only 45 when she diagnosed with vascular dementia. Now, the 57-year-old from West Bromwich is talking about her experience of living with dementia and the support she has received from the Sandwell Community Dementia Service.
Trish also speaks of her pride at representing Great Britain at the International Blind Sport Federation (IBSA) World Games this year.
She said: "When I was at school, I always had a fantastic memory. I never had to do revision, I just had to look at a page and I could memorise it. However, that all changed after I suffered a number of strokes. My first stroke happened in 1999, followed by a major stroke in 2003. I did recover, however I found that my memory was really affected, and I kept forgetting things like appointments or paying for bills, and at times couldn't remember my children's names.
"I had a number of small strokes following this and as a result my memory just kept getting worse. I kept telling people I was 40 but I was actually only in my thirties. In 2010, at the age of 45 I was diagnosed with vascular dementia. On top of this, I also started to lose my sight – my vision went completely five years ago and now I'm registered blind.
"Not being able to use visual cues can be really disorientating and it means I have to work hard to try and remember things. I always do silly memory games with myself like trying to remember what's in the fridge and where it is and then trying to pick it out, to keep my mind active. However, it can be really overwhelming at times and trying to remember names is becoming difficult for me now.
"I was referred to the Sandwell Community Dementia Service by my doctor at Edward Street Hospital at the end of last year and was assigned Elaine as my Dementia Advisor. She has been absolutely brilliant and has helped me try and find ways to cope when I feel overwhelmed. I was struggling to find a suitable activity group to join because of my age, and Elaine found lots of different groups for me to try. I recently had an appointment with my nurse at the hospital and needed to get in touch with them but couldn't find the phone number and started panicking. I gave Elaine a call and she got in contact with the hospital for me straight away and it was sorted.
"Staying active is really important to me, both physically and mentally. I started doing archery three years ago after doing a taster session for the visually impaired. Ironically, when I could see, I couldn't hit the side of a bus but now I train three times a week at two clubs. I find that if I miss too many sessions, it's almost like starting from scratch so I try to make sure that I'm consistent with training. I'm actually representing Great Britain in the World Games which takes place in Birmingham which I'm really proud of.
"Like any condition, I have good days and bad days. Sometimes I wake up and forget who I am, and my biggest worry is my daughter as she gets upset that I might forget about her. However, as long as I get enough contact and speak to her every day, hopefully that won't happen.
"My Amazon Alexa has a lot to do with how I cope day to day. My partner has connected my calendar to the app so I can just ask Alexa to remind me what I'm supposed to be doing that day and if I have any appointments. It also has an option where you can ask Alexa what you're holding, and it will tell me what cans or coffee pods I'm holding, so I use that a lot."
Trish trains at Portway Lifestyle centre in Oldbury, and Sandwell Council has supported her through a Gifted and Talented grant. She is also supported by the Sandwell Community Dementia Service.
Funded by Sandwell Council and the Black Country Integrated Care Board (ICB), the service is a partnership of eight local voluntary sector organisations.The service provides advice and support for people who are worried about their memory, those who have received a dementia diagnosis and carers or family members of someone living with dementia.
People can be referred by their GP or healthcare professional or they can self-refer by calling 01902 826 655 or emailing [email protected]
Visit the Sandwell Community Dementia Service webpage to find out more.