Students across Sandwell have been receiving their A level and post-16 results today (Thursday 17 August).
Councillor Simon Hackett, Sandwell Council's Cabinet Member for Children, Young People and Education, said:

"I would like to congratulate all students who have received the results they wanted and wish them well in whatever they choose to do next whether that be in higher education or in the workplace.

"There are some outstanding results from young people here in Sandwell so congratulations to them and thank you to their families and school staff for all their support.

"But, I also recognise that while results day can be exciting for some it can sometimes be stressful for others who may not quite have got the grades they wanted, so I want to emphasise that there are still options and that we are here to help
"For young people who didn't get the results they needed or would like support and advice for next steps, our excellent team at Connexions Sandwell are on-hand to help."
Connexions Sandwell is offering an exam advice service which is available weekdays from Thursday 17 August to Friday 1 September, 10am – 4pm. Just call 0121 569 2955 if you need any advice on your results and what to do next.

Here are some of the results from around Sandwell.
Q3 Academy Tipton

At the Q3 Academy Tipton they were celebrating 96% of grades being a pass or higher with 34% of grades at A*-B. The highest performing subjects were Sports, Business, Criminology, Maths and Health.
Examples of high-flyers include:
Holly Orme – A* (Criminology), A (History), C (Sociology)
Josh Porter – 3 Distinctions (Art, Business, Media)
Molly Jenner-Flukes – Distinction* (Sport), Distinction (Music), B (History)


Shireland Collegiate Academy, Smethwick
93% of A level students have achieved three or more A level passes at grades A* – E. 62% of A level students have accomplished three or more passes at grades A-C.
Mr Irish, Principal at Shireland Collegiate Academy, said:
"We are proud and thrilled to be celebrating our students' well-deserved successes with them. We feel very privileged to have witnessed their growth and progress throughout their time with us.
"We wish them all congratulations from everyone at the Academy, and all the very best for the future."
Performances were particularly strong in Fine Art with 38% of student achieving an A*/A, Mathematics with 21% A*/A, and Photography with 44% A*/A. Notably 11 of our A level subjects achieved a pass rate of 100%, with all of our subjects performing exceptionally well.
In addition, 99% of students undertaking BTEC courses have also achieved qualifications equivalent to three or more A level passes at grades A*-E.

Ormiston Forge Academy – Cradley Heath

As well as improving A level results, the performance of students undertaking applied general (BTEC) courses has been particularly pleasing. The hard work and determination of our students has meant that applied general students at Forge have secured an average grade of a Distinction. A record number of sixth form leavers this year are going to university, with many securing a place on their first-choice degree programme.
Whilst all of students can be proud of what they've achieved this year, some individual standouts include:
• Jake Burrows: BTEC Sport D*D*D. Jake will be going to the University of Worcester to study Physical Education and Sports Coaching.
• Ahmed Taheri: AABB at A level. Ahmed will be going to Aston University to study Biological Sciences.
• Sundus Kaid: BTEC Health and Social Care D*D*D*. Sundus will be going to Aston University to study nursing.

Lisa Mason, Principal of the Academy said:
"Support lies at the foundation of our sixth form, and I have no doubt that it has been instrumental in enabling our students to excel and achieve the results they are celebrating this year. I am incredibly proud of all of sixth form students, but particularly pleased with how our students from disadvantaged backgrounds have performed. "
Stuart Bathurst Catholic High School – Wednesbury

''I am delighted for our year 13 students, their parents and our staff as Stuart Bathurst Catholic High School yet again celebrates another outstanding set of A Level, Level 3 BTEC and Level 3 CTEC results," said Henryk Koryl, Head of School.
Stuart Bathurst Catholic Sixth Form students have coped really well with the demands of both Level 3 academic and vocational courses. Collectively, almost two thirds of all grades awarded were either an A*, A or B.
The top university destinations this year are the University of Birmingham, King's College London, the University of Liverpool and the University of Bristol. Students will be studying a diverse selection of undergraduate courses including Law, Psychology, Sociology, History, Accountancy, Philosophy and Ethics, Politics, Mathematics and many courses linked to the three sciences, including Engineering.

Gospel Oak School, Tipton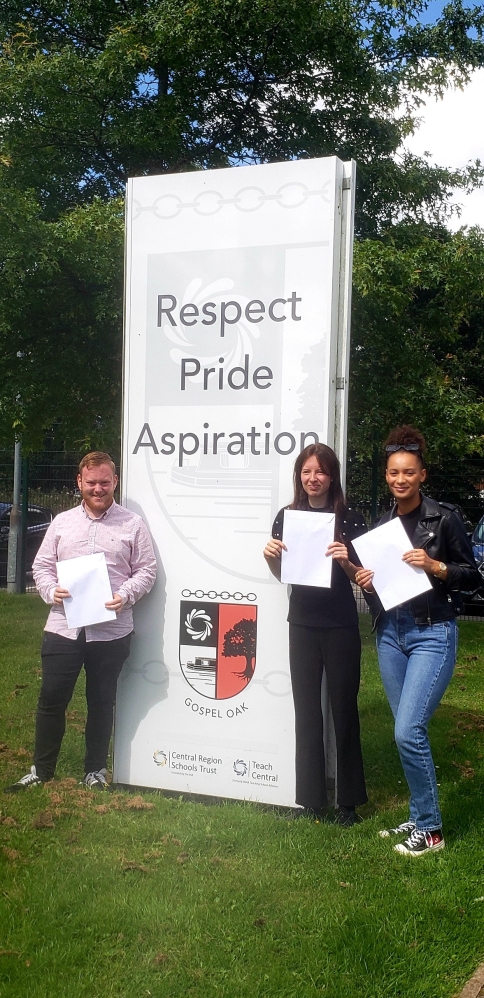 Overall, the Academy achieved an increase in its % A*-E and % A*-B measures with 90% of grades awarded falling within the recognised A*-E range.
In addition, subjects that saw particular success included Criminology, Sports Studies, Performing Arts and Health and Social Care.
While all pupils have done incredibly well, there are some standout individual achievements. These include:
• Aaron Emms, who achieved an A in Criminology, B in History and B in English Literature. He will now go on to study History and Politics at the University of Warwick.
• Abigail Townsend, who achieved a Distinction in Sports Studies and a Merit in Performing Arts and hopes to read Law at Birmingham City University.
• Cara Rees who secured a Distinction x2 in Health Studies and also passed Art and Design and hopes to secure a Foundation Degree at Wolverhampton College.
• Jasmine Johnson who achieved a Distinction in Performing Arts and a Pass in Health Studies. She will now pursue an apprenticeship through Doocey Group.
Collecting his A level results today, Sam Bhandu, said:
"I now have the grades I need to study Neuroscience and Psychology at Keele University."
Ross Trafford, Executive Principal based at Gospel Oak School, said:
"We are very proud of what the students have achieved and are delighted to see so many of them achieve the grades they need to pursue their ambitious plans for the future. So many barriers have been broken this year, with Jasmine one of very few young women making it onto a coveted apprenticeship with Doocey Group. These results are full of good stories for the town to be proud of."

Phoenix Collegiate, West Bromwich
Once again this year Phoenix students have achieved some really impressive Level 3 results today. Top performing students were:
Anjum Kazi who attained A*AA in Psychology, Biology and Chemistry
Mehakdeep Singh who attained AAA in Economics, Maths and Italian
Laura Milasauskas who attained 2 Distinction* in Business studies and Health and social care as well as an A in Sociology
And Loraine Kengne-Pfumtum who attained an A and 3 Distinctions in Italian, Business Studies, Applied Science and Health and Social Care
Over 15% of the cohort achieved an average of AAB
The headteacher, teachers and governing body wishes all its students success on their next steps in life.
Wood Green Academy, Wednesbury

We are thrilled to report some outstanding achievements by its students in their Post-16 qualifications this summer with the majority of the cohort successfully gaining the grades to get into their first choice University or onto a Higher Level Apprenticeships.
Following the cancellation of exams for these students two years ago when they were due to sit their GCSE examinations, this year was the first time that they had the opportunity to sit terminal examinations.
Mr James Topham, the school's headteacher, said:
"We are immensely proud of all of our students on making it through an incredibly tough two years. Many of whom were unable to sit GCSEs in 2021 and so this summer's exams were the first external assessments that they took. It's a tremendous achievement and highlights the resilience and drive of all our students. A huge thank you also goes out to all the staff at Wood Green Academy, parents and friends who all worked hard to support our students with their education."
Holly Lodge High School, Smethwick
Special mention goes to Ethan Lawrence-Butler who achieved one A* in Mathematics and three As in Further Mathematics, Computer Science and Geography and will go on to study Mathematics at The University of Birmingham, Simran Kaur who achieved Distinction*, Distinction* in Health & Social Care and an A in Religious Studies who will go on to study Nursing at The University of Birmingham. Fatma Aksu who achieved and A* in Sociology, A in Psychology, a Distinction in Law and a B in Turkish, she will go on to Queen Mary's to study Law and Samuel Ali who achieved 3 A's in Business Studies, Chemistry and Mathematics and is going to study Pharmacology at The University of Manchester.
All of our students have done exceptionally well and are going on to study at a university of their choice.
Headteacher, Imran Iqbal, said: "We are once again very pleased with this year's Post 16 results and congratulations go out to both students and staff who have worked hard to achieve these grades. We continue to be the first choice Sixth Form for so many Post 16 students. We wish all of our leavers the very best for their future careers and are extremely proud of what they have achieved – both personally and academically."
The Mercian Trust
The Trust runs nine schools across Sandwell and Walsall has Sixth Forms in seven of our schools: Aldridge School, Shire Oak Academy, Queen Mary's Grammar School, Queen Mary's High School, Walsall Studio School & Sixth, Q3 Academy Great Barr, and Q3 Academy Tipton.
Dan Parkes, CEO at The Mercian Trust, said:
"Congratulations to our students and staff in all our sixth forms in Walsall and Sandwell today as we open A Level and vocational results together. It will always be a remarkable achievement to have sat these exams in the aftermath of the global pandemic and the hard work, perseverance, commitment and resilience you have learned as part of the process will without a doubt prepare you well for your future endeavours. Well done! We are proud of you!"